Do you have any books on writing that you recommend to aspiring authors?
I read a quote from Hemingway that said something like all first drafts are shit, that stuck with me, I'm a polisher, I like to write and then grind it down until it flows for me. My wife bought me a book (can't remember the title) about character development that helped me, basically saying you should know the characters favorite colors, favorite foods, music etc. While those items are cliché, I think it's important to get inside the characters heads and let the reader in on innermost thoughts and desires.
Why did you feel you had to tell this story? I always wanted to tell this story. Jack Canon is the everyman in us that dreams of setting things right. The story has tender moments of deep intimacy and romance, woven throughout a real thriller. The characters are true friends, working for the common goal of winning the Presidency. The story is basically set in Washington and on the campaign trail and has plenty of corruption, billionaires, and beautiful woman to keep the reader entertained. All the following components are featured: Washington Politics, Corruption, Romance, Love, Tenderness, Murder, Love, Suspense, Presidential Politics, Power, Passion, and Thrills. Jack and his friends stop at nothing to make a better America for all citizens.
How do your family and friends feel about the book? My family and friends have been supportive. Funny story – I sat down in the living room in our most comfortable chair and wrote the first paragraph. I liked it even though it didn't end up making it into the book. Finishing that paragraph I announced to my wife and 22-year-old son that I was writing a book. We still laugh about the eye rolling. The idea came to me all at once – the entire story. I wanted to tell a story of great characters that are the best of friends. There's tenderness, romance, political corruption at the highest levels, not to leave out murder and revenge.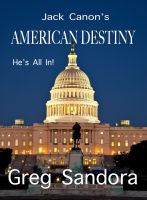 Buy Now @ Amazon & Smashwords
Genre – Political Thriller
Rating – PG
More details about the author
Connect with Greg Sandora on Facebook & Twitter
Website http://www.gregsandora.com/
Quality Reads UK Book Club Disclosure: Author interview / guest post has been submitted by the author and previously used on other sites.